We're glad you're here! On this extension of the momsAWARE website, you'll find recipes and instructional videos to help you cook "outside the box" of processed, pre-packaged convenience foods. Our recipes make use of healing, nutrient-dense ingredients, based on the research of Weston A. Price and others who have discovered the rich heritage of clean, unprocessed foods.
The Andy Bar is a grain-free, sugar-free energy bar that tastes like a candy bar. The sweetness comes from the dates. The nutrition comes from the chia seeds, soaked almonds, ginger, coconut, goji berries, and a whole host of things you can add to the recipe. We've found these bars to be appealing to everyone, even those unaccustomed to a fructose-forsaking diet!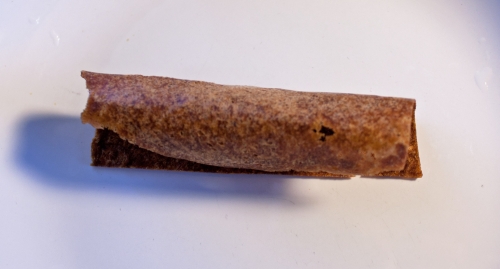 Place 2-3 cups fresh or frozen fruit chunks in food processor (S blade) or high-powered blender. A combination of cranberries, strawberries, and apple works nicely. Process until a smooth consistency. (Shortcut option: Use store-bought unsweetened organic applesauce.)
Add spices (cinnamon, nutmeg, ginger) to taste and blend.
You can create your own fruit snacks by dehydrating your favorite fruit.
A dehydrator is optimal for this process, but you can turn your oven into a makeshift dehydrator by setting it on its lowest temperature, propping open the oven door, and directing a fan into the oven.
The following fruits lend themselves well to the drying process. Allow 6-12 hours for drying, depending on your method.
Blend in food processor or high-powered blender:
1 red pepper
2 cloves garlic
1/2 onion
Beet greens, carrot greens, or any greens of choice (a couple of handfuls)
1 tsp. cayenne pepper
Add a small amount of water if needed to make a nice "paste" or "sauce."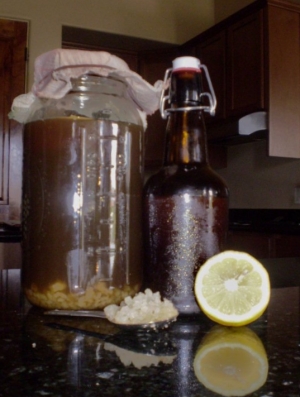 Looking for an alternative to soda and sugar-laden fruit juices? Hoping to find something your kids will enjoy? Fermented beverages offer taste, fizz, and fun in a variety of flavors and forms!
Fermented beverages include dairy kefir, kombucha, beet kvass, and water kefir. The water kefir recipe below can be adapted to suit your tastes and preferences.
Water kefir requires three basic ingredients: Starter, sugar, and water. Don't worry if sugar is not part of your daily diet. The sugar is "eaten" by the grains or starter, and the drink is transformed into a probiotic boost to your immune system.
Crust:
1 c. shredded coconut
1 c. almonds (preferably sprouted for easier digestibility *)
1 c. pitted dates
2 tbsp. coconut oil
Mix coconut and almonds in high-powered blender or food processor. Blend in dates and coconut oil. Press dough into pie plate.
Filling:
2 c. shredded coconut
2 tbls. coconut oil
1/8 c. honey or sweetener of choice (more if desired)
2 c. frozen or fresh strawberries
Blend in high-powered blender. Spoon into pie crust. Refrigerate.
* To sprout almonds: Place in a bowl and cover with water. Add a bit of salt if desired. Wait 8 hours or allow to soak overnight. At this point you can keep the skins or remove them. The almonds will have begun the sprouting process, eliminating the phytic acid they contain and making them easier to digest.
Kids can have fun creating their own recipes for healthy, nourishing foods! Join 12-year-old Colin Fabry as he demonstrates his recipe for chocolate avocado ice cream—a nutritious and delicious dairy-free/sugar-free treat you and your kids will love!
These cacao balls make great gifts. Instead of sugar-laden, chemically altered, processed chocolate, introduce your friend or coworker to raw cacao powder. Not only are you giving something natural, you're also offering a nice dose of the "bliss" chemical, anandamide, a neurotransmitter linked to good mood!