We're glad you're here! On this extension of the momsAWARE website, you'll find recipes and instructional videos to help you cook "outside the box" of processed, pre-packaged convenience foods. Our recipes make use of healing, nutrient-dense ingredients, based on the research of Weston A. Price and others who have discovered the rich heritage of clean, unprocessed foods.
Looking for a comfort beverage for the Christmas or winter season that is gluten-free and sugar-free? Consider these recipes for our Hot Cacao Drink and Coconut Milk "Eggnog," demonstrated by Rejuvenating Recipes' Erin Fabry.
Ingredients:
4 c. coarsely chopped, peeled yellow onion
4 c. de-strung, coarsely chopped celery
2 c. almond flour
2 tsp. baking soda
4-6 tbsp. poultry seasoning blend
2 jumbo eggs
Place celery and onion in large bowl. In another bowl, mix baking soda with almond flour. Add poultry seasoning. Toss flour mixture with vegetables. Add eggs and mix by hand to keep it chunky.
Place in glass pan or loaf pan. Bake for 1 hour at 350 degrees.
Ingredients:
2 eggs
2 c. fresh cooked pumpkin or 1 can pumpkin
1/4 c. stevia or sweetener of choice
1/2 tsp. salt
1 tsp. cinnamon
1/2 tsp. ground ginger
1/2 tsp. nutmeg
1/2 tsp. allspice
1/8 tsp. ground cloves
1 2/3 c. coconut milk
1/4 c. sprouted almond flour or coconut flour
Heat oven to 425 degrees. Beat eggs slightly; beat in remaining ingredients. Place pie plate on oven rack; pour in filling. Sprinkle with cinnamon. Bake 15 minutes. Reduce oven temperature to 350 degrees. Bake until knife comes out clean, approx. 45 minutes.
Ingredients:
12 eggs
1/2 c. coconut oil or ghee, melted
1 c. pumpkin puree or other squash puree
Stevia or other sweetener
3 tsp. cinnamon
1 1/2 tsp. ginger
1/2 tsp. salt
1 c. coconut flour
Preheat oven to 400 degrees. Mix dry ingredients and set aside. Beat eggs and add other wet ingredients. Combine and whisk until lumps are gone. Scoop into muffin tins and bake 15-20 minutes.
These cacao balls make great gifts. Instead of sugar-laden, chemically altered, processed chocolate, introduce your friend or coworker to raw cacao powder. Not only are you giving something natural, you're also offering a nice dose of the "bliss" chemical, anandamide, a neurotransmitter linked to good mood!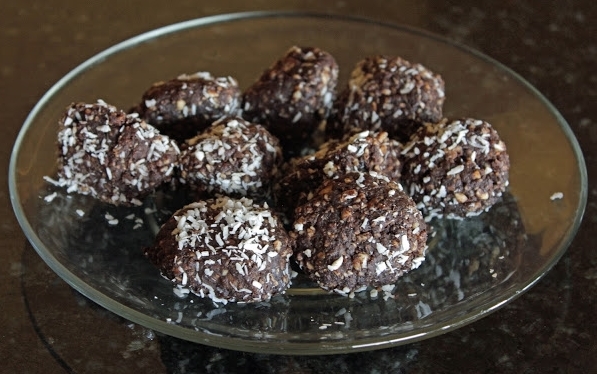 Kids can have fun creating their own recipes for healthy, nourishing foods! Join 12-year-old Colin Fabry as he demonstrates his recipe for chocolate avocado ice cream—a nutritious and delicious dairy-free/sugar-free treat you and your kids will love!
Crust:
1 c. shredded coconut
1 c. almonds (preferably sprouted for easier digestibility *)
1 c. pitted dates
2 tbsp. coconut oil
Mix coconut and almonds in high-powered blender or food processor. Blend in dates and coconut oil. Press dough into pie plate.
Filling:
2 c. shredded coconut
2 tbls. coconut oil
1/8 c. honey or sweetener of choice (more if desired)
2 c. frozen or fresh strawberries
Blend in high-powered blender. Spoon into pie crust. Refrigerate.
* To sprout almonds: Place in a bowl and cover with water. Add a bit of salt if desired. Wait 8 hours or allow to soak overnight. At this point you can keep the skins or remove them. The almonds will have begun the sprouting process, eliminating the phytic acid they contain and making them easier to digest.
Sisters in the Kitchen show you how to make a delicious turkey meatloaf—a rejuvenating recipe on the run.
A great substitute for mashed potatoes!
Ingredients:
2 heads cauliflower
1/2 c. chicken broth
A few garlic cloves, pressed or minced
Boiled chicken (a little goes a long way)
Basil (dried is fine)
Salt and pepper
Steam cauliflower until very soft. Combine with chicken broth. Add garlic. Add boiled chicken and puree (a stick blender works great for this). Add basil, salt, and pepper to taste.
Try to serve right away, but can keep in the oven to warm. Does not do well for leftovers.
A sweet but healthy treat that you and your kids can enjoy as a snack or dessert! Erin Fabry demonstrates this simple, delicious recipe for Sweet Carrot Fries.